Laser Hair Removal (LHR) in Lone Tree, CO
 Is a medical procedure that uses a targeted beam, or a laser, to reduce/remove unwanted hair 
At Elite Medical & Aesthetics, we use the FDA-Approved EpiLaze by Rohrer Aesthetics for our Laser Hair Removal services. This specific laser has three different wavelength settings that makes laser hair removal safe for all skin types, all year round! 
Laser hair removal, LHR, uses a selective laser wavelength that is penetrated down into the dermal layer of the skin where the hair follicle grows. The laser beam targets the color, or melanin, present in the hair, and safely heats up the hair follicle to damage it. In return, this noninvasive laser treatment inhibits future hair growth where the hair follicle was damaged. It does require a series of treatments for desired results, but is the safest and most effective/permanent form of hair reduction on the market. 
What is the best laser for laser hair removal?
The best laser for laser hair removal depends on your skin-tone and the color of your hair. That is why it is important to be assessed by a medical professional that can determine which laser is best for you. The good news is that at Elite Medical & Aesthetics we have a laser with all 3 of the best laser wavelengths for all skin-tones year round! These include:
1064nm Yag Laser- for darker skin tones or tan skin
810nm Diode Laser- for medium skin tones
755nm long-pulsed Alexandrite laser- for light skin tones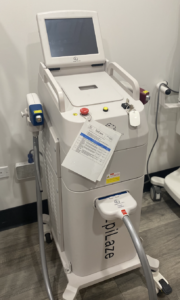 What are the benefits of LHR?
With the correct settings and updated laser technology, it is usually pain-free
Most people are a good candidate for LHR
Helps to smooth the skin for an even tone and texture
Can prevent painful, reoccurring ingrown hairs 
LHR provides a long-term solution to unwanted hair compared to waxing, shaving, or sugaring hair removal methods
LHR treatments can be done on almost any part of the body 
It is precise and customized to your skin type to ensure safety
LHR is quick and effective, making your appointments easy and predictable 
How many treatments are recommended for LHR results?
This is completely individualized based on your skin type and hair color. In general, larger body parts such as full back, full legs, brazillian, and arms it is recommended to have 6-10 treatments. For smaller body parts such as axilla, lip, chin, and bikini line, 3-6 treatments is recommended. Sometimes, there will be a need for touch-up's to maintain your results. 
Who is a good candidate for LHR?
At Elite Medical & Aesthetics, almost anyone who has unwanted hair is a good candidate! Our clinic, and our RN and NP providers, differentiate from other locations because of the knowledge and technology we use that allows us to treat any skin type and most hair types. However, it is best to have thicker hair with pigment in it. If you are curious about being a good candidate schedule a consultation, down below, to talk with one of our providers.
Who is NOT a good candidate for LHR?
In general, candidates that may not be best suited for LHR include:
Gray or light blonde hair in the desired area of treatment
Fine hair, peach fuzz, or vellus hair in the desired area of treatment
Pregnant or nursing women (simply because it has not been studied)
If you are on any medications that cause photosensitivity (sensitivity to light)
If you are prone to Keloid or Hypertrophic scarring 
If you have (or have a family history) of Vitiligo
If you have a tattoo in the desired area of treatment
Who will be doing my LHR treatments?
At Elite, our medical professionals will be doing all LHR treatments. These medical professionals include Registered Nurses or Nurse Practitioners who have taken the required licensing courses to perform laser based technology for LHR. Learn more about our providers below.
How do I prepare for an LHR treatment?
Preparing for an LHR treatment is simple. Most clinics will have a specialized protocol for you to follow before treatments, but in general:
Ensure that you have NOT waxed or plucked any of the hair in the area you are wanting to treat for at least 4 weeks
 It is best to not have any self tanner or makeup on in the area before the appointment
 Shave the hair in the treatment are 24 hours before appointment
Avoid certain medications prior to treatment or talk to your provider about any medical treatments/medications you are on 
Do not bleach your hair 4 weeks before your appointments 
What is the aftercare for an LHR treatment?
Your provider will have a aftercare protocol for you to follow, but in general LHR aftercare looks like:
No extreme exercise or sports 24 hours after
No hot tubs, swimming pools, sauna, or baths for 24-48 hours after 
Avoid harsh chemicals or exfoliants in the treated area for 24-48 hours after
Wear SPF 30 or above on treated area after (and always) 🙂 
Apply a cool compress if treated area feels warm or irritated
Wear loose/soft clothing if skin feels irritated
You may shave during treatment sessions but refrain from tweezing or waxing the hair
Light exfoliation 24-48 hours after treatments, and the weeks in between sessions,  helps to prevent ingrown hair
Always contact your provider if you notice anything uncomfortable or painful post treatments
Even though everyone's pain tolerances are different, LHR has little to no discomfort. Specifically with the technology we use, there is a chilled sapphire tip that ensures the skin is cooled before, during, and after treatment for patient comfort. Our technology also has in motion setting that allows for quick, easy treatments. 
What should I expect after a LHR treatment?
Right after a LHR treatment the skin can be a little pink and irritated. It is also common to have little red bumps post treatment where the hair follicles were treated with the laser. This is very common and usually resolves within 24 hours. 10-14 days following the treatment, you may notice some "fall-out". This is where the hair in the treated area sheds out of its follicle…whoo! 
Will I need more laser hair removal treatments down the road?
It is not uncommon to need more laser hair removal treatments after your package is complete. LHR is permanent hair reduction but nothing can permanently remove ALL hair. Especially with hormone fluctuations and other factors that could increase hair production on the body throughout life. Typically, after someone reaches their goal, they get a touch up yearly afterwards.
What are the risks of LHR?
It is important to know the risks involved with any aesthetic procedure, in which your provider should discuss with you at a consultation appointment. LHR comes with little to no risks when operated by an experienced, knowledgeable provider. However, some potential risks may include: 
Blistering of the skin
Burns
Scarring caused form a burn
Hyperpigmentation (darkening of the skin)
Herpes break out 
These risks are why it is important to go to an experienced medical professional. It is not worth having scars or discoloration for life because you tried to save a few bucks!
How long do the results of LHR last?
In most cases, results of LHR are long-lasting and/or permanent. Some body parts such as the face (lip/chin) may have regrowth sooner, simply because the hair growth is due to hormonal changes within the body. There may be a need for tough-up's in some areas, but most people report that after completing their treatment sessions hair that may grow back is sporadic and finer.
LHR is priced based on the size of the area being treated. Smaller body areas range from $75.00-$150.00 per session, whereas larger body parts range from $300.00-$450.00 per session. Usually, clinics offer packages that lower the cost per treatment which in turn saves money. For more on pricing click the pink button below.
Can I perform laser hair removal at home?
Even though it may seem like there are devices on the market that allow you to perform laser hair removal on yourself, we do not recommend it. This could be very dangerous, ineffective, and a waste of money! It is important to go to a reputable clinic and an experienced provider that has FDA-Approved technology to safely and effectively perform LHR.
See side effects above such as scars and hyperpigmentation that can happen from incorrect treatment, these could be caused if done at home as well. 
If you are located near Lone Tree, CO click the button above to schedule a consultation to talk with one of our medical providers about Laser Hair Removal in Lone Tree, CO
Elite Medical & Aesthetics is a premier Med Spa in Lone Tree, CO that takes a holistic approach for natural results. We are proud to have an all nursing staff with NPs and RNs with safety as our #1 priority.