PRF, the new generation of PRP
PRF/PRP in Lone Tree, CO
Platelet rich plasma (PRP) and platelet rich fibrin (PRF) are both derived from your own blood and are alternatives to synthetic products and procedures.
They can both be used for medical and aesthetic procedures. Some common uses for aesthetics include: injections for thinning hair, "Vampire Facials", facial injections to help build collagen and body injections for cellulite.
A few medical indications include: joint injections, trigger point injections for muscle strains or pain, and wound healing.
What is the difference between platelet rich plasma (PRP) and platelet rich fibrin (PRF)?
PRF is often called "the new generation" of PRP. It is spun at a slower speed which creates a solution that's more rich in healing cells. Unlike PRP tubes that usually contain an anti-coagulant (a product that keeps the blood from clotting) PRF is 100% natural.
Without an anticoagulant the PRF turns into a gel-like consistency in the body and therefore takes longer to break down; leaving more time for healing cells to be released. In aesthetic medicine this gel also has a temporary filler like result that eventually breaks down and is replaced by healthy new cells and collagen.
Because PRF is proving to be a more advanced and effective form of PRP it is what is primarily recommended at EMA over PRP.
Are PRF Injections better than PRP?
PRF is considered much better by most medical professionals that perform both treatments. In general, PRF takes longer to break down, several weeks, versus PRP breaks down in a short few hours for a facial and at most a day when injected. This means it has the potential to release more healing cells which will stimulate the skin for a longer period, improving the quality and texture.
How does PRF work to help my skin?
Fibrin creates a sort of scaffolding in the body in response to injury and this is where platelets bind and are activated to release growth factors. This causes a cascade in the wound healing process that leads to new cells, new blood vessels and collagen production.
So when the blood is drawn, spun down, and the platelet rich fibrin is extracted we can simulate this same response in a controlled fashion. The two most common ways to utilize PRF is either in combination with microneedling or laser for a PRF facial or injected under the skin and used as a collagen stimulator.
What is a PRF facial?
A PRF facial also called a "Vampire facial"  is a procedure in which a patient's blood is taken and spun in a special machine to concentrate platelets. The concentrated cells are then applied back onto the skin to promote faster healing and overall skin rejuvenation. 
What is Microneedling with PRF?
PRF can be combined with microneedling to rejuvenate the skin. As above, this is called a PRF facial. It is a more effective way to refresh the skin and eliminate scars, fine lines, and make the skin more vibrant.
Does PRF work for hair loss?
PRF is an excellent option for those who experience male or female pattern baldness (androgenic alopecia). PRF works to increase the blood flow and healing cells to the patient's hair follicles. This gives them a nourishing boost which leads to the hair shafts becoming thicker. Unfortunately, it only works on thinning hair and does not work on completely bald areas to generate new follicles.  
Is PRF safe?
PRF has a very high safety profile.  Since it is from the patient's own blood there should be no risk for a reaction. Overall it is much safer than any synthetic counterpart that would be injected for aesthetic or medical purposes.
The most significant known side effects that are possible would be 1. hemosiderin staining (a rust colored stain) if too many red blood cells are present with injection, or 2. theoretically a vascular occlusion would be possible if a large amount of fibrin matrix was injected directly into a vessel (no known reported cases). All precautions are taken to avoid any side effects.
Do PRF procedures hurt?
A blood draw is required to obtain the PRF which will feel like getting your blood drawn for regular lab work. Drinking extra water the day prior and morning of your appointment will make the blood draw portion go more smoothly.
For a facial procedure, there should be no additional discomfort caused by the PRF. For injection there will be additional needle pokes and the amount will vary depending on the area treated and whether needle or cannula are used.
How long until I'll see results from PRF?
Results get better over time as collagen forms for aesthetic procedures. People will often notice an immediate difference that fades over 2-3 weeks then continues to get better again over several months. When used in combination with filler the results are immediate and last as long as the type of filler used (or longer with the addition of PRF).
How much does PRF Cost?
PRF facials cost between $500 and $1500+. The price depends on the medical professional performing the treatment and whether it is done with a laser or regular microneedling. Prices are high due to the equipment needed and the experience of the medical professional performing the treatment. Remember, PRF will need to be done at least three times to ensure the best results. Some providers will discount the treatment when purchased in packages of three.
Are payment plans available for PRF treatments?
Unfortunately with the COVID19 pandemic many of the payment processing companies stopped offering this option. However, we do offer discounted rates with our packaged options as well as when multiple procedures are booked together.
Schedule a consult below to chat with a provider about what would work best for you!
What is a PRP treatment good for?
PRP/PRF injections are a great option for injury recovery and to promote healthy skin because they contain healing cells. For injury recovery,  PRP has been used to treat muscle injuries, tendinitis, problems associated with arthritis, and torn tendons. For cosmetic treatments, PRP can be used to treat male pattern baldness (androgenic alopecia). Cosmetically PRP is also used for "Vampire Facials" which uses your own blood to help the skin regenerate and produce more collagen. PRF (platelet-rich fibrin) can also be used as an injectable alone or mixed with dermal filler. 
What are the side effects of PRP?
PRP for cosmetic procedures generally has minimal downtime. It is also autologous (it is made from materials from our own bodies) which means that there is little risk of an allergic reaction. Some of the more common side effects of PRP injections are:
Bruising (from the injection(
Swelling
Redness
In rare cases infection
Pain where injected
Damage to tissue
How long do PRP injections last?
There isn't enough scientific evidence available to say exactly how long PRP/PRF injections have an effect on the skin. In general, PRP is reabsorbed by the body within a day and PRF within 2-3 weeks when injected. However, most clients feel that the skin is healthier and more vibrant than before after these treatments.
How often should you get PRP?
To get the best results you should get PRP injections once a month for 3 months. 
This can be done every year in a series or only as needed.
Does PRP/PRF really work?
There have been limited studies done on PRP for hair restoration and skin rejuvenation but there are immense studies on PRF in wound healing in medicine, especially in the dental field. 
We can take these studies and apply them to aesthetic principals but overall the data is limited when it comes to the skin. Anecdotally, clients seem to love the results after getting these treatments!
At Elite, we have noticed that clients that do PRF with microneedling tend to heal a little faster and get the glowing result sooner. When used for injectables it also seems to create healthier, thicker skin in fragile, thin areas such as under the eyes.
A lot of people also love that it is 100% natural from their own body, in the case of PRF at least. PRP does use an anticoagulant (anti-clotting) agent to keep the cells from sticking together.
Is PRP the same as stem cells?
No, PRP injections are not the same as stem cells. PRP is created from a special spinning of one's own blood in order to separate it and concentrate the platelets. This platelet-rich blood (90% concentrated) is then injected back into the skin promoting healing and boosting skin health. It is possible that some stem cells that are circulating through the blood may be extracted but the amount would be negligible. 
On the other hand, procedures that specifically utilize stem cells obtain them from bone marrow or fat tissue. These are usually targeted towards treating joint pain and cartilage issues.
Are there payment plans for PRP/PRF?
Yes, we offer Cherry Payment Plans for our clients, for more information click the button below. Additionally we offer discounted packaged options when multiple treatments are booked together.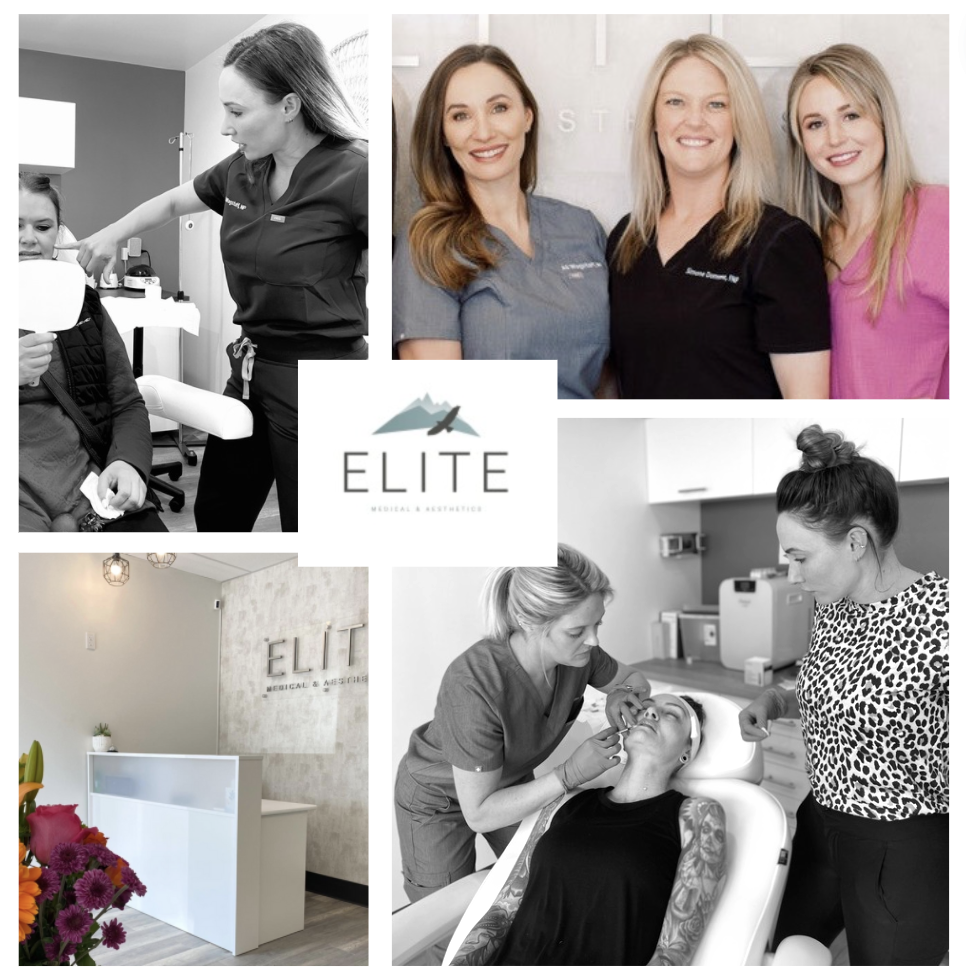 Elite Medical and Aesthetics is a premier Med Spa in Lone Tree, CO that takes a holistic approach to natural results. We are proud to have an all nursing staff of NPs and RNs with safety as our #1 priority.
To learn more about PRF in Lone Tree, CO book a consult below