According to the American Academy of Dermatology, acne is one of the most common skin conditions in the United States, affecting up to 50 million Americans yearly.  It is actually common in all Westernized nations, affecting 85% of adolescence according to MDedge, but no acne has been found in certain developing countries. Why is that?
Keep reading to gain a better understanding of acne, it's types, causes, and best aesthetic treatments at Elite Medical and Aesthetics to help.
Before we get into all of the details of acne, let's start with the basics, what is acne anyway? Acne is an inflammatory condition of the sebaceous glands (oil and sweat producing glands) characterized by pimples. It is most common in teens and in developed countries (more on this below). 
What are the different types of acne?
Although there are many different types of acne, to keep it simple, we will group them into 4 different categories: blackhead/whiteheads, pustules, nodules, and cysts. Below is a definition table to show the different types of acne.
 Blackheads are tiny clogged pores that have oxidized turning them black. Whereas whiteheads are clogged pores that have not oxidized and are still covered by skin.
Smaller, inflamed bumps that are filled with pus from an overproduction of oil and built-up bacteria. Can feel tender to the touch.
Swollen and hard bumps or knots that the eye can see, but there is no whitehead or pus. 
Inflammatory, pus-filled boils or knots that are deep under the skin and never come to a head.
What does acne look like?
What type of acne is most common?
While each individual is different, the most common types of acne are blackheads, whiteheads, and pustules. This type of acne can occur at any stage of life (male or female) due to the natural oil production of skin and it occasionally clogging pores.
What type of acne is most likely to scar?
If you pick at any of these acne lesions, chances of scarring is high. However, if you do not pick at the skin, cysts and nodules are more likely to scar because they lie deep within the skin for longer periods of time causing inflammation. If you do experience acne scarring, do not worry it is treatable! Read more about acne scarring below.
Why is acne more common in the United States?
According to MDedge, NO acne has been found in developing nations living under Paleolithic conditions, but around 85% of adolescence in 1st world countries have acne. The amount of acne found in developed countries cannot be explained by genetics either. Rather, our diets and lifestyle create an inflammatory condition that leads to a cascade within the body that is also showing up on the skin (as acne). Remember that our skin is often a reflection of our inner health. 
What are Paleolithic conditions anyway? This is a diet without preservatives, refined or manufactured foods, processed dairy or artificial ingredients. It's basically a hunter/gatherer diet. So if following this diet think that if you can't hunt it, gather it, or make it up in your kitchen yourself, don't eat it. People following this diet/lifestyle are also usually more active. If you have to hunt or gather your food that means you're walking and moving quite a bit!
What age can you get acne?
You can get acne at any age! Although, the most common age range to get acne is 14-19 because that is when most people experience hormonal changes called puberty. During puberty, oil glands become more active and combined with inflammation = Acne. However, Acne can appear on infants and can continue into adulthood, too.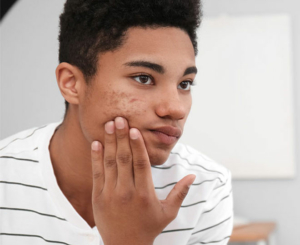 Photo credit: Dermatology Care of Alabama
Simply, adult acne is any type of acne from mild to severe that appears after the age of 25 (post-adolescent). In some cases, people will continue to get acne well into their 30's, 40's, and 50's+. Women tend to get adult acne more often than men because of the hormonal stages they can experience: pregnancy, mensuration, & menopause. "Adult on-set acne" can also occur from stress, environmental factors, and genetics. More information on acne causes below!
At what age does acne go away?
Generally speaking, acne starts to go away in peoples mid-20's, but every individual is different. Some people may experience acne later in life, and some may never get acne. Reminder that acne is a skin condition, and is different than getting a pimple every now-and-then which is part of being human 🙂 .
While we wish there was a one-size-fits-all answer to this question, it is completely individualized. Scientifically speaking, the way acne is formed is through an excess amount of oil (sebum) production and dead skin cells that clog the skin's pores (thus gathers built-up bacteria). But, it is important to learn why the excess oil production is happening within the body.
However, there are several different factors that can trigger acne in people. Some of the main causes linked to acne may include: stress, diet, hormones, & environmental factors. Keep reading below for more in-depth information!
Reading above that acne doesn't exist in developing countries following a Paleolithic lifestyle really makes you think though!
Photo credit: Christina Cosmeceuticals
Yes, stress can be a cause/trigger of acne. When the body is stressed out, in flight-or-fight mode, it releases stress hormones like cortisol and androgens. These stress hormones increase production of the skin's sebum and oil, and also increase inflammation in the body, thus leading to or worsening acne in some individuals.
What does stress acne look like?
While there is no specific way stress related acne looks, it can tend to appear more inflamed and the skin will also look more oily. This will look different for each person, but depending on the level of stress and duration of stress, it can be a mixture of pustules, nodules, and even cysts at times.
What are ways to help manage stress acne?
Stress is an inevitable part of life, but finding ways to help reduce stress is crucial not only for acne but also overall health. Here are some ways to help manage stress:
Meditating- even guided meditations are helpful
Journaling
Gratitude
Exercising 
Talking with trusted family/friends
Therapy 
Walking outside/grounding with nature 
A calming hobby such as hiking, fishing, drawing etc.
Deep breathing exercises
Taking a bath or getting a soothing massage
An act of self-care, whatever fills your cup!
Living more in the now, rather than past or future
There are studies that show that following a balanced, low-glycemic (low-sugar) diet can lead to less acne and reduce total body inflammation (a culprit to acne). This isn't necessarily a "diet", but rather a healthy way of nourishing your body for optimal health and hormone regulation. Usually, this includes eating foods like the following:
Vegetables
Quality animal proteins
Fruit 
Grains
Legumes or beans
Limiting sugar, alcohol, vegetable oils, dairy, and gluten
Eating organic produce or soaking in vinegar prior to consuming
What foods can trigger acne?
If you are struggling with acne it is best to avoid or limit:
Dairy– due to hormones and increasing inflammation in the body
Gluten– leads to conditions like leaky gut= increases inflammation
Sugar– affects hormones and increases inflammation
Caffeine–  increases stress hormones and inflammation
Vegetable oils, and processed foods– fat is not the problem but the wrong kind of fat, such as super inflammatory PUFAs in vegetable/seed oils can contribute to acne
What foods can help acne?
Like mentioned earlier, eating a balanced, whole diet that includes: vegetables (especially dark leafy greens), fresh fruits, probiotic rich foods (kimchi, sour kraut, yogurts), fish/salmon, chicken, whole grains, beans, almonds, sweet potatoes, and seeds like flax, chia, pumpkin and sunflower. Also, ensuring that your body is well hydrated with water, herbal teas, and electrolytes is important.
There are also helpful herbal supplements and vitamins that may reduce acne, but it is best to consult with a provider for individual concerns.
Yes, hormone fluctuations can be a major cause of acne, also known as "hormonal acne". This can happen all throughout the different stages of human life. Even infants can experience hormonal acne as they start growing. Hormonal acne is especially seen at time of puberty, pregnancy, menstruation, menopause, and even in cases of PCOS, endometriosis, and other hormonal medical condition.
Remember that just because something is common, does not mean that it is normal! If hormones are out of whack leading to acne this is a symptom of an underlying cause. Likely diet and lifestyle changes are needed to correct. 
Hormonal acne is linked to the body's hormone fluctuations and imbalances. More specifically, hormonal acne is a result of your body producing more androgens, such as testosterone, than it actually needs. Which in turn causes the skin to produce more oil and acne. This type of acne tends to be more inflammatory and cystic formed along the chin and jawline, but can look different for everyone.
Photo credit: Advanced Acne Institute
What are triggers of hormonal acne?
While triggers for each individual may vary, there are some main triggers and causes of hormonal acne, which include:
Stress
PCOS
Pregnancy
Puberty
Excessive sugar, dairy, or gluten consumption
Some birth control methods 
Inconsistent menstrual cycles 
Is hormonal acne preventable?
Hormonal acne is preventable, and treatable, but it can take a lot of work. Many people assume they are victims of circumstance if they get acne during their teen years. Especially if they are told that their parent and sibling had it too and it's just "genetics". However, the more we learn about holistic treatments, and getting to the underlying cause of conditions, the more we learn that we do have control over our health.
In the case of teen acne, consider that there are many factors leading up to acne that used to be considered genetic and now we think could be environmental that lead to acne such as:
Conditions in-utero: How did Mom eat during pregnancy? Was she super stressed? These conditions set the stage for our health in early life. Not within our control at that time but can be helped later in life. 
Mom's microbiome: we inherit mom's microbiome when coming out of the vaginal canal during birth. Was this microbiome healthy? Was it more or less prone to acne?
Diet and lifestyle early on: did we eat a lot of fruits and veggies or did we eat a lot of birthday cake?
Weight and activity: were we an active kid with healthy body weight or did we mostly play video games and eat potato chips?
Everything above affects our Epigenetics: what genes are turned off and on based on our lifestyle. We could have a gene that predisposes us to acne that we "turn-off" from a healthy lifestyle or turn-on from a healthy lifestyle. If we were set up with a disadvantage because Mom was super stressed during pregnancy and ate a lot of fast food, or passed on an unhealthy microbiome, it will take more work to correct but it is doable! We have a lot more control than we think. 
Consider working with a holistic nutritionist like Marisa Faye to get to the root cause! Especially if suffering from adult acne. 
Is spironolactone good for hormonal acne?
Spironolactone is often prescribed to treat hormonal acne and is affective for people so long as they continue taking the drug. If they stop, the acne will come back because it doesn't address the underlying cause. This drug works by decreasing hormones (androgens) in the body that contribute to acne.
Again, this drug does not cure acne and only treats the symptom of excess androgens without helping the underlying cause of why androgens are high in the first place (hormone imbalances).
Photo credit: American Academy of Dermatology
What environmental factors trigger acne?
There can be several different environmental factors that can trigger acne. From the weather to cosmetic products, listed below are some of the main contributors to avoid if possible:
Extreme weather: hot, cold, dry, humid 
Pore clogging cosmetic ingredients: mineral oil, talc etc
Cosmetics that contain hormone disruptors, see Chemtrust
Pollution
Bacteria on pillow cases, towels, makeup brushes 
Touching your face with dirty hands 
Not cleansing the skin 
Excessive sweating (without proper cleansing after)
Over exfoliation or using harsh products 
What are the best aesthetic acne treatments?
Luckily, there are several different acne treatments than can help with active acne, acne scarring, and prevent future acne. However, it is important to note that topical products and treatments can only work as well as taking care of your body as a whole. When combined together, acne can be beat! Read more for our treatment recommendations for acneic skin.
Do chemical peels help acne?
Chemical peels can help with active acne and acne scarring. Most chemical peels such as VI Chemical peel contain ingredients like salicylic acid to clean the pores of excess oil and sebum. The chemicals work deep within the epidermis, which causes the skin to tighten and flake or peel off after about 4-5 days which lessens acne.
Yes! IPL, also known as intense pulse light, helps with killing the bacteria-causing-acne within the skin. Not only does this help with active acne, but it can also help with the PIH (post inflammatory hyperpigmentation) that can be left after a pimple has healed.
What skincare ingredients help with acne?
This can be individualized, that is why we recommend seeing a professional to get a customized skincare plan. In general, Benzyol Peroxide or Salicylic Acid are the gold standard ingredients that fight acne causing bacteria. It is also important to use a foaming cleanser twice a day, oil-free moisturizer, and SPF everyday. A good skincare routine alongside treatments are very beneficial for acne prone skin and help prevent future acne. 
Monthly facials are a great way to reduce acne because of the proper exfoliation, LED light therapy, and radio frequency that is offered in an Elite Acne Facial. Professional facials also include extractions that clean the skin's pores and speed up the healing of current acne/pimples.
How can I get rid of acne fast?
Even though there is no "cure acne fast" method, there are some helpful tips and tricks that can alleviate the blemishes and speed up their healing time:
Do not pick at the blemishes
Apply ice to help calm inflammation and redness
Apply a spot treatment that has Benzyol Peroxide 
Use a pimple patch 
Apply products with Salicylic Acid in them to dry out the blemish 
Schedule an LED light therapy session. Blue LED light kills acne bacteria
Radio frequency 
Consume a healthy diet and lots of water/herbal teas
Avoid/limit sugar until breakout has cleared up
Manage stress 
Also consider working with a professional to help get to the underlying cause of your acne otherwise symptoms will just keep coming back!
Photo credit: The Today Show
What are the best acne treatments for teens?
Teen acne sometimes needs to be treated differently due to the age of the individual and what is safe for their skin. We highly recommend getting all teens on a simple skincare routine first. This should include products with ingredients like 
Salicylic Acid 
Benzyol Peroxide 
SPF
Gentle cleanser
Next, with consent of a parent, getting monthly customized facials that have LED light therapy, professional extractions, appropriate exfoliation, and radio frequency can help alleviate the acne and prevent it. Occasionally, depending on the severity, mild chemical peels and spot treating with IPL may be necessary. It is best to consult with a provider for teen acne, to make sure safety is priority! It will also take a family effort to clean up diet, improve gut health, decrease stress, and decrease inflammation! 
Learn more about skincare routines (by age) below.
How can I treat body acne?
Treating body acne is relatively the same as treating facial acne. In fact, you can even be a little more aggressive on the body because it is typically thicker skin than the face. At Elite, we recommend using our acne body wash 2x a day which has AHA/BHA exfoliants, a topical retinol, and using the medicated acne gel (with 5% benzyol peroxide) to spot treat. Going further than topicals, it can also be beneficial to get chemical peels, such as the VI Peel, on the body as well. Finding an appropriate way to shower or cleanse the skin after workouts is also important when dealing with body acne such as back-acne.
For a complete body-acne routine, scheduling a consultation with a medical provider is key!
When should I see a provider for acne?
We recommend seeing a provider if the acne is worsening, not progressing with topical products, or you simply aren't sure how to treat your acne. It can be extremely overwhelming seeing the amount of product and information on the web and social media. Typically, mild acne will clear up with topical products and lifestyle changes, but persistent, severe acne will need a diagnosis and a treatment plan customized to you. 
If you are located in the Denver, CO area, schedule a consultation below to talk with one of our providers today. You deserve to feel confident in your own skin! We are here to help. 
https://www.emacolorado.com/wp-content/uploads/2022/08/acne-header-2.webp
632
1440
Mary Beth Martin
https://www.emacolorado.com/wp-content/uploads/2018/08/elite-340x156w-300x138.jpg
Mary Beth Martin
2022-08-29 15:57:28
2022-12-16 16:58:00
Acne: Treatments, types, & causes