Everything You Need to Know About IPL Photofacials
A far as minimally invasive treatments go, IPL is one of the most effective. In just a few short appointments it can completely rejuvenate the skin! IPL is great because it has virtually no downtime and can begin showing results in as little as a few days. The following guide goes into detail on IPL and some of the most commonly asked questions around this awesome treatment.
Common IPL Photofacial Questions
What is an IPL Photofacial?

IPL (Intense Pulsed Light) Photofacials are a light therapy treatment that is used to remove sun spots, hyperpigmentation, redness, and general skin discoloration. It can also help with wrinkles and even undesired body hair. It works to safely remove abnormal pigment on skin without harming the normal skin cells. The treatment is generally around 20-30 minutes and will need to be done 3-4 times to achieve clear skin. 
How does IPL work?
IPL is different from laser resurfacing treatments because it sends out many different wavelengths of light. This is unlike a laser that is only able to send out one targeted wavelength. The provider will use a handheld wand that emits a broad spectrum of light. 
The light targets chromophores, usually a color like pigmented cells in your skin (the darker ones) that you're trying to remove. The settings and filters will adjust to the target area which will pick up this light and begin to heat up. The heat is able to destroy the cells and remove the blemish without harming your normal cells. Your body then naturally removes the treated cells. 
How much does an IPL Photofacial cost?
IPL can cost anywhere from $300-$1200 depending on the size of the area the practitioner is treating and if it's combined with other treatments. It is important to remember that IPL is considered a cosmetic procedure for most insurance companies and they will not cover the treatment. It's also important to remember that for full results, it may take 3-6 sessions. For more on pricing, click HERE
What does IPL treat?
Because of IPL's ability to send out multiple wavelengths of light, it is capable of treating numerous conditions. Below is a brief list of some of them:
Brown spots 

Sun spots

Acne

Birthmarks

Red stretch marks

Spider Veins

Undesired hair

Freckles

Skin discoloration

Blood vessels 

Rosacea 

Reddened scars
What parts of the body can IPL treat?
IPL can be used to target problems all over the body, especially for freckles and age spots. The most common areas are:
Face

Neck

Shoulders

Arms

Hands

Décolleté (lower neck area)

Chest

Individual Spots
How do I prepare for an IPL treatment?
To get ready for your IPL treatment you'll want to make sure you're taking precautions to ensure the best results. Some major things to avoid:
Things that could change your skin to a darker tone

. This is because tan skin makes it harder for the IPL treatment to work on the pigmented areas you are trying to treat. There is potential that the treatment will target healthy cells if they are darkener and not just the damaged cells like sunspots.

Don't use tanning beds and avoid intense sun exposure for at least four weeks before your treatment.
Avoid tanning lotions during the 4 weeks leading up to your treatment
Note- If you have a darker skin tone at baseline, this may not be the best treatment for you. Schedule a consult to discuss the best treatment options to help you reach your goals! 
Blood Thinners

like aspirin and ibuprofen unless prescribed (discuss with your provider). Sometimes this treatment can cause bruising or "purpura" and these medications will make this worse.

Alcohol

– it will dry out your skin and if you show up a bit tipsy you cannot consent to a procedure!

Don't show up with any

makeup or skincare products

on your skin. You'll want your specialist to be able to easily see the area they are performing IPL on.
What is IPL aftercare like?
You'll want to make sure you're taking care of your sensitive skin after your Photofacial treatment. To make sure you don't cause any unwanted redness or irritation make sure you're:
Using a mild cleanser and moisturizer
Using a heavy sunscreen if you have to go outside. If you can avoid it, try to remain out of direct sun exposure for four weeks.
Avoid products that contain Retinol and Glycolic acid after your treatment for at least a few days
Apply a cool compress to the face for 10 minutes each hour for the first 24 hours after your treatment if you are feeling any pain
Schedule your next appointment! Remember, you'll want to have your IPL treatment  every four to six weeks.
How long does IPL take to heal?
IPL a favorite among clients because it has essentially no downtime post-procedure. You are able to get out and resume activities right away (avoiding the sun). After your procedure though, you may have redness that lasts from a few days up to a week. You may also have mild bruising lasting a few weeks.
As the procedure works to remove your spots you may also have darkened spots (those that were treated) for up to a week on the face and longer on the body. Often times this process looks as if there are coffee grounds on your face. This is the damaged cells coming to the surface and flaking off. 
What are the side effects of IPL?
As briefly touched on above, many of the side-effects of a Photofacial are very minor, but let's briefly touch on some of the more serious ones. Please, consult your practitioner with any additional questions about these.
A mild sunburn sensation after your treatment is considered normal
Blistering due to the pigmented area receiving too much light and heating up too much which can lead to:

Hypopigmentation (lightening or loss of color) which is usually permanent, as well as hyperpigmentation (darkening of the skin) which can usually be treated

Possible darkening of blemishes which is usually temporary
Hairloss in the area treated (which may actually be what you're after)
Bruising in the area treated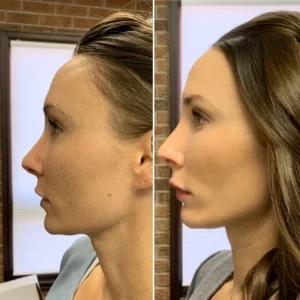 Is IPL painful?
Many companies will advertise IPL as a pain-free procedure. They will even boast that their machine is better and less painful than the others. As someone that has had many many treatments with many many different machines, I can assure you they all feel about the same.
The pain depends on the settings. A low setting is going to be more tolerable and feel like a zap. A higher setting that is trying to target more stubborn pigment is going to feel like a thick rubber band snapping you in the face.
At Elite we offer numbing cream for any moderate-aggressive treatment to help with discomfort. We can keep it light for your first treatment as well, but we also want you to see noticeable results.
How do I keep the results of IPL?
The #1 thing anyone can do is to wear SPF30 or higher every single day. Check out Elite's Mineral Green Tea SPF Powder! We don't just mean your mineral powder that has sunscreen. You should always apply sunscreen or moisturizer with sunscreen and then your make-up that may also have sunscreen. Also, avoid direct sun exposure as much as possible.
Another factor that can diminish your results quickly is tobacco smoke. Smoking can pre-maturely age the skin. If you are a smoker, you're definitely sick of being told to quit because you already know it's bad for you. But did you know it's bad for your skin? It's the second biggest reason for pre-mature aging after sun exposure. It increases inflammation and decreases skin elasticity. It contributes to wrinkles, redness/rosacea, and a poor complexion overall. Quitting smoking can help you keep your skin looking great.
Does an IPL work for wrinkles?
IPL can stimulate collagen and tighten the skin to reduce fine lines and wrinkles. As above, IPL targets chromophores, which are usually pigmented cells, but water is also considered a "chromophore" or a target for IPL/BBL. The light energy that is not absorbed by darker target cells scatters throughout the tissue. It can heat up the water in the skin which increases collagen production.
Certain protocols, like the BBL Forever Young treatment (this is Sciton's version of IPL) uses more passes of the treatment
. This gets more light energy into the skin to target water and tightening. This
can help reduce wrinkles
.
To get this benefit you need to be doing IPL
consistently
, usually a series every year of 2-4 treatments. Over time the skin starts to appear tighter and younger with a more even complexion.
How long do the results of IPL last?
In theory, your IPL results should be permanent with proper care and sun protection. But, it is impossible for anyone to stay out of the sun 100% of the time and you have to be able to live your life! So if you got rid of all your freckles with IPL, the same ones may not come back exactly, but new ones will form. This may even happen by the next Summer.
Sometimes the areas that are creating the abnormal appearance of the skin, like age spots or even rosacea, are due to a chronic problem. It can also be from cells that are malfunctioning. To stop this process, other maintenance therapies may utilized as well.
 It's important to talk to a provider that has a license to diagnose and treat the underlying cause of your skin discoloration. This will truly help you can get the results you want. In the state of CO, the only providers with the ability to diagnose and treat are: Physician Assistants (PA's), Nurse Practitioners (NPs) and Physicians. Once you have a diagnosis they may delegate your care to another specialized provider like a registered nurse (RN) or laser technician. Learn more about aesthetic Nurse Practitioners HERE.
How long does it take for spots to fade after IPL?
Most people will have an initial darkening of spots immediately post IPL and then as soon as 3-4 days later they will start to slough off on the face. This still may take up to 7-10 days on the face and even longer on the body.
Remember, it may take several treatments to see full results, so don't get your hopes up that your skin will be immediately clear after that first treatment. 
Do spots return after IPL?
As above, IPL will remove spots. Even if some spots are nearly gone or completely gone others will pop up as you live your life. If you get sun exposure, even in your house or car because of windows, you may get spots.
Additionally, many spots are caused by malfunctioning cells and a home skincare treatment may also help. This will keep the spots at bay along with maintenance treatments.
With proper skincare and consistency, it is possible to get a clear, healthy, and glowing complexion with these treatments. If you are curious about getting on a good skincare routine, suitable for your age and skin type, read this BLOG.
Is IPL or microneedling better?
The answer is- it depends. If you're looking for something that will make your skin smoother-than it currently is, you'll want microneedling. Microneedling will stimulate collagen production and work to make your skin softer and smoother. It works especially well for those with acne scars. If you're looking for something that will clear up imperfections in your skin like age spots or freckles, IPL is better. The two treatments are often combined to give your skin a total refresh. For someone that has redness and discoloration from acne scars, the combination is ideal.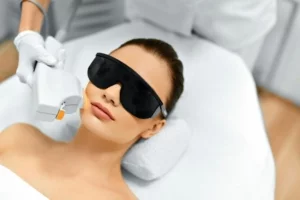 Does IPL Tighten Skin?
As above, IPL can tighten the skin. This happens when the light energy that is not absorbed by the target cells scatters through the tissue and heats up the water within the skin. When the water heats up it stimulates collagen production. This is how IPL is able to stimulate collagen and tighten the skin. This will happen with any IPL treatment but there are certain steps taken to specifically target water for skin tightening. These treatments will need to be done consistently for the best results.
Elite Medical & Aesthetics is a Medical > Spa located in Lone Tree, Colorado just outside of Denver. If you're in the Lone Tree area and are considering IPL, microneedling, or other aesthetic procedures book a free consultation with our incredible staff using the button below. Ali is a trained Nurse Practitioner (NP) and an artist that combines her skills to give clients beautiful natural results. Check our services page to find out more.