Introduction
So you're considering a glow up and have some questions. For many, Botox is a scary leap- it's temporarily altering your appearance. Here's the good news, it's going to go absolutely great and you're going to get amazing natural looking results. Ali from Elite Medical and Aesthetics is an expert on Botox and below is her breakdown of all the major things you should and shouldn't do to make sure the process goes smoothly.
DO: Research your injector
Aesthetics is a science but it's also very much an art- find a trained medical professional that's well-rated and well-reviewed like Ali. Some major things to research about any injector:
What are their credentials and experience?
Do they have before/after photos with clients?
How do they handle side effects or a "poor" result?
Check their social media and online presence for reviews
Make sure to get a consultation prior to getting any treatment

Watch this YouTube Video to learn more about 4 very important traits that Ali looks for in an injector, herself!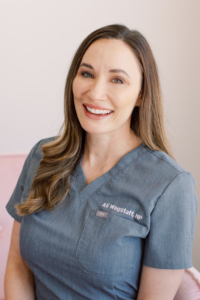 NP, Ali Wagstaff
DO: Disclose what medication you're on to your injector
This is extremely important. You want to ensure that the procedure will not have increased side effects because of any medication you are taking. Injectors should be knowledgeable of the interactions that Botox can have with other prescription medications. 
DO: take Zinc 
Taking Zinc 1-2 days before and 1-2 days after your injections may help you achieve longer lasting results. This is because the medication requires Zinc to bind to the target receptors within the body. Learn more about how you can extend your Botox result longevity, by reading this blog: "How to Make Botox Last Longer"
DO: take Arnica
If you're worried about bruising, which is a rare side effect, but more common in delicate ares like around the eyes-
Take a trip to your local grocery store prior to getting your injections. There you'll find

Arnica

Montana (not a small western town I promise), it has the ability to reduce bruising from your injections.
Plan to take it the day before your injections so it has time to take effect. As with any new medication or supplement, discuss it with your primary care provider (PCP) to make sure it's safe for you.
DO: Schedule your appointment for a good time
Though the side-effects of the injections are minor, it is important to note that with any procedure side effects are always possible.
For Botox, common side effects include: redness, small bumps (like mosquito bites), discomfort and rarely bruising. Occasionally people will get a mild headache as well, especially newbies.
Plan your injections for a day that you can avoid being out and about or jumping on conference calls if you have any discomfort.
Also, you'll want to avoid these things for at least 6-8 hours so keep that in mind when booking:
Avoid intense exercise post injections
Avoid laying down or bending your head down
Do not touch or massage the treatment area
You can consume alcohol but it will worsen any bruising present
***Please note: We are using the name "Botox" to describe Botulinum Toxin A injections but there are many different forms of Botulinum Toxin injections such as Xeomin, Dysport and Jeauvea
Photo Credit: Redefine Beauty Aesthetics
DON'T: Take anything that could thin your blood
Blood-thinning medicines and supplements can cause you to experience additional bruising after your injections. Make sure to disclose any over the counter supplements or medications you are taking as they can delay your healing process. Unless prescribed by your medical team, avoid:
Aspirin and medicine containing it

Ibuprofin and other NSAIDs

Omega-3

Ginseng

Fish Oil

Ginko Biloba
Instead, make sure you are taking Tylenol or Arnica for discomfort. 
***Please note: do NOT discontinue prescription anti-coagulants such as: coumadin/warfarin, Xarelto, Eliquis, etc. without pre-approving with your prescribing provider. 
DON'T: Smoke cigarettes
It's me your D.A.R.E counselor, don't smoke cigarettes prior to having your injections done, or at all if possible. Smoking generally decreases wound healing and also causes pre-mature aging. 
DON'T: Drink alcohol prior to your appointment
Alcohol may calm your nerves but it can also make the injection process a lot worse. For one, the injector cannot legally consent you if you're intoxicated so this is a hard no before injections. It can also thin your blood which leads to increased bleeding and bruising.
Post injections just know that it may make any existing bruising worse as well as dehydrate you which can slow healing.
DON'T: Use products that could Irritate your skin
Avoiding products that could irritate your face. Stay clear of:
Waxing

and hair removal cream for 3 days prior to your treatment

Anti-aging creams and serums ("Tretinoin (Retin-A), Retinols, Retinoids, Glycolic Acid, Alpha Hydroxy Acid") will need to be avoided for at least 1-day post treatment as they will really burn those fresh injection points!
DON'T
:
Wear makeup to your appointment- arrive with a clean face
Your injector will clean the areas to be injected with rubbing alcohol or another cleanser but it's always best to have clean skin when you start. You may also want to avoid putting on making in the hours following your appointment. This is because massaging the areas that were recently treated can cause problems with the treatment and may cause the Botox to spread to unwanted areas. If you can't avoid it, just use clean hands or a clean brush and don't massage.
DON'T: Get botox if you've have any of these allergies:
Allergy to eggs
Allergy to albumin
Poor reactions to vaccines
Milk allergies (Dysport only)
The reason is that the albumin in the Botox is similar to eggs and what's in vaccines. Additionally, avoid any Botox type medication if you have every had severe side effects in the past such as:
Muscle Weakness

Trouble Breathing

Drooping eyelids

Changes in vision

Chest pain

Chest tightness or trouble breathing
Photo credit: Your Plastic Surgery Guide
Elite Medical and Aesthetics, is a Medical Spa located in Lone Tree, Colorado just outside of Denver. If you're in the Lone Tree area and are considering Botox, fillers/injectables, or other aesthetic procedures, consider booking a consultation with our "all women medical professional staff" using the button below.
Ali is a trained Nurse Practitioner (NP) and an artist that has numerous years of experience working with clients. She has expertly administered botox and filler to thousands of times to happy clients that have achieved natural-looking results. Check our services page to find out more.
If you are unsure about which services or treatments may be best for you, take our quick skin quiz to learn more about our recommendations fit for you!