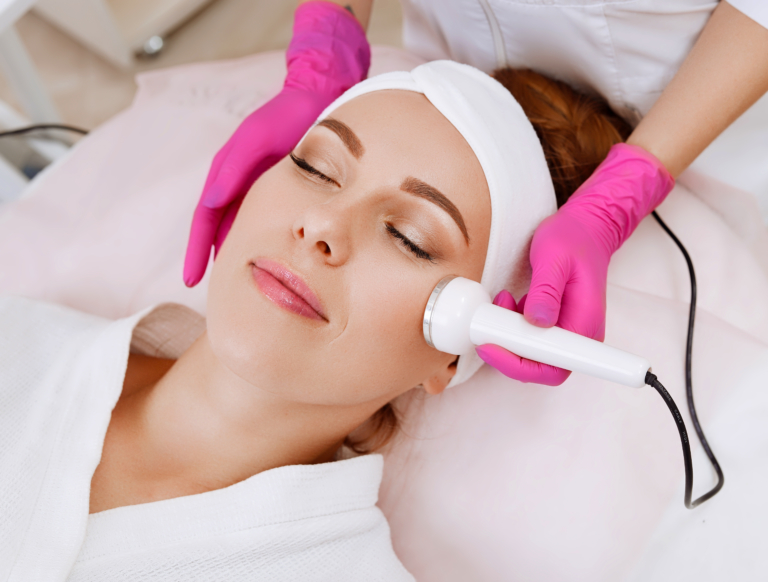 As we age our bodies slow down their production of elastin and collagen. When this happens our skin can start to loosen, losing its firm look. To keep skin tight many will seek surgical skin tightening options. But in many cases, clients could have amazing results without surgical procedures by using laser skin tightening treatments. In this article we'll talk about laser skin tightening, the types of treatments, how they work, and how much laser skin tightening costs. 
What is laser skin tightening?
Laser skin tightening is a non-surgical procedure that uses lasers to increase collagen production for skin tightening.  This can help the skin appear firmer, tighter, and less crepey.
How does laser skin tightening work?
There are many different types of lasers but the general premise is that they cause controlled damage or heating of the skin in order to increase collagen production. Some of them are ablative, meaning they remove the outer layer of skin or parts of it. Others are non-ablative, meaning they do not break the skin. They all cause controlled damage that stimulates a wound healing response and collagen production. 
Read more info about laser skin tightening with ResurFX and how it works HERE.
Who should get laser skin tightening?
Laser skin tightening works best for clients ages 30-65 who would like tighter, firmer, and less crepey skin. Those who haven't had noticeable loosening of the skin yet may also find it to be beneficial as a preventative measure. If you are a patient with skin that has become extremely lax, a better alternative may be a surgical lift procedure.

What types of treatments are used for laser skin tightening?
There are many different types of lasers available for skin tightening so we're just going to focus on a few of our favorites that we offer here at Elite.
IPL
IPL is technically not a laser but a light energy that targets skin discoloration. However, the light beams are able to heat up water in the skin creating a tightening effect when the treatment is done consistently. For more info visit our IPL page or read our IPL 101 BLOG.
ResurFX 
ResurFX is non-ablative fractional laser technology that is able to resurface and tighten the skin. It's great for fine lines, wrinkles, and crepey skin. For more info visit our ResurFX page.
RF Microneedling
RF microneedling combines the power of microneedling, well known for increasing collagen, with RF (radiofrequency) to heat up the skin. It's like getting a 2-in-1 to tighten loose, crepey skin as well as reduce the appearance of acne scars, fine lines, and wrinkles. RF (radiofrequency) technology is often used alone for skin tightening as well. For more info visit our RF Microneedling page.
How much does laser skin tightening cost?
Laser skin tightening treatments will vary in cost based on the type of procedure you're having, what part of the body the procedure is being done on, and who is performing it. Remember, each of these procedures will require 3-6 treatments to see desired results. Below is a guide on how much it may cost based on the type of treatment.
IPL
$250-450/treatment
ResurFX
$700-900/treatment
RF Microneedling
$500-700/treatment
What areas can you have laser skin tightening done on?
Laser skin tightening can be done on any part of a patient's body, but is most commonly used to tighten skin on the:
For example, the neck is a common area we see that clients want treated. To read more about laser skin tightening for just the neck read the blog below.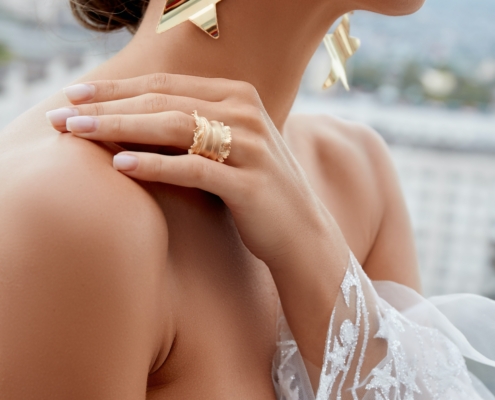 What should you do before laser skin tightening?
Always follow the instructions given by the provider doing your procedure for the best results. In general though you'll want to :
Avoid sun exposure for

2-4weeks before

treatment

Avoid Retinoids and other products

that could lead to sensitivity for 2-4 days before treatment

Stay hydrated

and drink plenty of caffeine-free fluids for 24 hours before your treatment (many lasers target water in the skin so you want to be hydrated)

Let your provider know about any

medical conditions you have and any medications you are on
What is laser skin tightening treatment like?
Most treatments require numbing prior to the procedure to help with pain. So usually while the provider is talking to you about what to expect and going over any necessary medical history, they will have a numbing cream sitting on the treatment area for 15-45 minutes.
Then your face will be washed and the treatment will start. Usually the procedures are quite tolerable but some areas can still be sensitive. 
After treatment, as the numbing wears off, some discomfort is expected. Most people feel like they have a sunburn after laser treatments and their skin is quite sensitive. Your provider will go over aftercare or you may already have instructions that were given to you.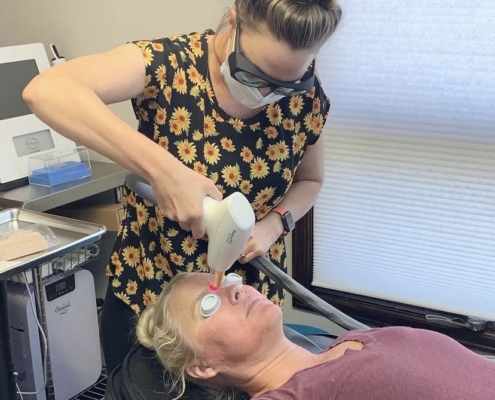 Is laser skin tightening painful?
Most laser procedures are quite tolerable but even with numbing cream there are always a few sensitive areas. Talk to your provider about the specific type of laser treatment you are having and what to expect. There are always things that can be done to minimize pain and discomfort.
What is laser skin tightening aftercare like?
Talk to your provider about aftercare for your specific treatment, in general:
You'll want to

avoid any harsh chemicals or scrubs

for up to a week post-treatment for non-ablative treatments and longer for ablative

Avoid touching or picking your treatment area

as this can lead to infection, scars, and permanent changes in pigment

You'll want to

avoid sun exposure for 4-8 weeks post-treatment

depending on what you had done

You'll want to

keep your skin clean and dry and use only products

approved by your provider

Avoid hot tubs or any soaking of the treated area

until approved by your provider
What are the side effects of laser skin tightening?
Side effects for this procedure are generally mild but may include:
Warm or stinging skin in the area treated

Bruising

Changes in your skin color

Redness

Swelling

In rare cases loss of pigment or darkening of pigment may occur

If the skin is broken, infection is another rare side effect that can occur
How much downtime is there for laser skin tightening?
Skin tightening is a favorite procedure for Elite Medical and Aesthetic clients because the types we offer have very minimal down-time. Most clients are able to get back to light activities immediately after the procedure and feel fairly normal within 24 hours. 
Before and after laser skin tightening
How long does it take to see results from laser skin tightening?
You may begin to see some changes immediately after your first treatment but these are not permanent and are usually from mild swelling. It is recommended that you have 3 treatments spaced out every 4 weeks to achieve the best results for most types of treatments. Some practitioners say the best results will appear 3 months after your last treatment because the skin continues to produce collagen and remodel itself for 3-6 months after.
How long does laser skin tightening last?
For patients that use sunscreen and work to take care of their skin, laser skin tightening should last for 2-3 years. After this point, patients can book the procedure again to maintain the results. Many people will do maintenance treatments yearly to keep up with their results. 
Does laser skin tightening really work?
Depending on the technology, and the provider administering the technology, laser skin tightening can really work. Here are just a few studies on the various technologies we talked about in this article:.
 IPL has been shown to be extremely effective in tightening the skin, as highlighted in this piece. As above, this is because it is able to not only reduce pigment but also create new collagen production by heating up the water in the skin.
RF microneedling also has great studies on skin tightening and is being used more and more for not only the face but also the body, as highlighted in this case study. 
This study talks about non-ablative fractional resurfacing technology (like ResurFX) and how it is safe and effective for all skin types, even darker tones.
What is the difference between laser skin resurfacing and laser skin tightening?
These two terms go hand and hand. When the goal is skin resurfacing, to reduce unwanted pigment as well as fine lines and wrinkles, there is also a skin tightening effect. This is because the controlled damage to the skin increases collagen production therefore tightening the skin.
However, some products are better for skin tightening and others better at resurfacing. Talk to your provider about your goals and what technology is best for you.

What is the best non-surgical skin tightening procedure?
When we're talking about a goal of skin-tightening usually the RadioFrequency (RF) technologies are the best (in Nurse Practitioner, Ali's, opinion) when weighing risks, benefits and outcomes. This is especially true when combined with microneedling to get a controlled depth of tissue damage with controlled energy. This helps to tighten the skin without going too deep and causing unnecessary damage or also dissolving fat in areas we don't want to (like in the face). 
These treatments are also much more tolerable and come with less side effects than some of their competitors such as ultrasound skin tightening technologies like Ultherapy.
Should you get laser skin tightening?
Whether something is "worth it" or not is highly subjective but we have had immensely positive feedback about IPL, ResurFX, and RF Microneedling. These minimal downtime procedures work across many different areas and can last 2-3 years.
If you live near Lone Tree, CO consider coming in for a consultation at Elite Medical & Aesthetics by booking an appointment below.
Ready to book an appointment?
https://www.emacolorado.com/wp-content/uploads/2021/04/AdobeStock_303518003-scaled.jpeg
1894
2500
Ali Wagstaff
https://www.emacolorado.com/wp-content/uploads/2018/08/elite-340x156w-300x138.jpg
Ali Wagstaff
2021-02-17 20:34:28
2022-11-14 23:12:47
Everything You Need to Know About Laser Skin Tightening