How to prepare for a lip filler appointment
If you're considering lip filler know that it is normal to be nervous, but we hope that after reading this article you'll be more excited instead! Most commonly, people are concerned about pain from the needles, looking over-done or having "duck lips", or  maybe not knowing what to expect at all.
Rest assured that these appointments are very thorough, and should be comfortable when you go to a licensed injector who follows all safety precautions.
Before actually getting the injections, it is recommended that you consult with your provider about what your desired results are. They will assess, and ensure that you are a good candidate and go over  realistic expectations of lip filler and known risks. Continue reading this blog to answer all of your questions about what you can expect from a lip filler appointment. 
What is a lip filler consultation like?
First, your injector will talk to you about what you're looking to achieve, what brought you in, and what questions you may have to better understand your goal with lip filler. Then they will assess your specific anatomy, and talk to you about the realistic expectations that can be achieved on you. Once you and the injector have agreed upon the treatment plan, they will go over benefits of the treatment, risks, and potential side effects (informed consent). 
Informed consent is crucial, and mandatory, for all medical procedures. This is where the provider goes into depth about risks, potential side effects, and even alternatives to the treatment. The goal here is to give you all of the information so you can make an informed decision if the treatment is right for you. Some people aren't even a candidate for lip filler so it's good to talk first!
If you are in the Lone Tree, CO area and are interested in booking a consultation to see if lip filler is a good treatment option for you, click here.
If you're not local, here are some good sample questions to ask when you go in for a consult:
What are your credentials? I.e. RN, PA, NP, Physician
What kind of training did you do to learn these kinds of injections?
Do you have photos of your work?
What are the risks and how would you treat them?
What are the side effects of the procedure?
What product will you be using and why? Is it FDA approved in the U.S.?
Can the product you're using be dissolved?
How can I reach you or your office on a Saturday in case of emergency?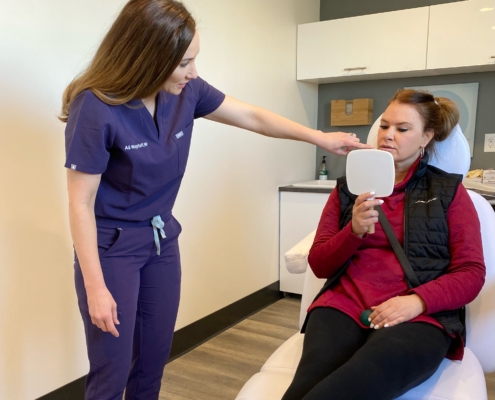 How do I prepare for lip filler?
Once all of your questions and concerns are answered, the injector will start the numbing process. This is to ensure you are as comfortable as possible during the treatment. There are two option with numbing specifically for lip filler. You and your injector should discuss which option would be best for you, but read below for a description of both.
2 Types of Numbing Options
1. Topical Numbing Agent 
This is a topical medication that is compounded to combine local anesthetics such as lidocaine and tetracaine. Once this is placed on the lips, it starts working by blocking nerve signals in the body to reduce discomfort from initial injections.
2. Dental Block
A dental block refers to injecting an anesthetic agent, such as lidocaine, (typically) into the infraorbital nerve and mental nerve through the mouth. This provides the client with complete numbness of the lips prior to injection. 
How long does it take to become numb for lip filler?
For topical numbing, it usually takes 5-30 minutes for the effects of the numbness to work (depending on the compound). The area continues to remain numb for 30 minutes to 1 hour after removal. Dental Blocks immediately start numbing the lips and the effects of this numbing process may remain for several hours hours post injections.
Pro's & Con's of numbing medications for lip filler:
This works quickly, allows patient to move their lips easier during injections (for better assessment), and wears off quicker for patient to go about their day
Patient is not 100% numb, some formulations can cause blanching (whitening) of the lips making the assessment difficult for the provider
Complete numbing for overall patient comfort
Initial dental injections go deep into gums and are painful. This can also make assessment difficult when moving mouth, because patient can be too numb. Numbness lasts for hours after treatment.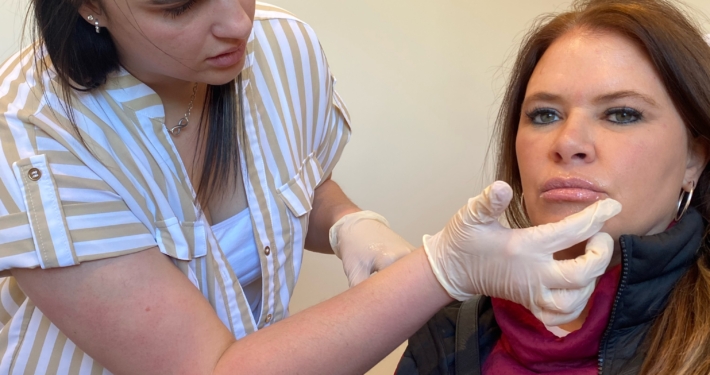 What is lip filler treatment set-up like?
While the desired numbing agent is working, the provider will start to set up for the treatment using industry standards. This includes washing hands, placing sterile drape onto tray, using gloves, properly preparing the filler products, and cleaning the injection site(s) on the client. This step is especially important because lip filler injections are a medical treatment that needs to be administered safely. Going to licensed providers that have a clean and sterile environment is crucial to lower any potential risk, and ultimately to keep you safe.
How long do lip filler injections take?
This is the quickest part of the appointment. The actual lip injections only take 10-15 minutes. You can expect that your injector ensures you are comfortable throughout the injecting process, giving you breaks where needed. From here they will start to inject the filler by building the lips to fit the patient's specific features. Overall, the goal should be to harmonize the lips and create balance to the face by subtly enhancing the lips. You should not feel anxious or worried about getting "duck lips" from this filler procedure. With the right injector, you will gain a boost of confidence, instead. 
For more on how to avoid "duck lips" with lip filler read this!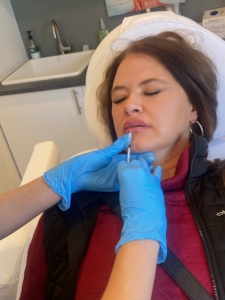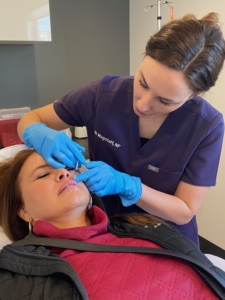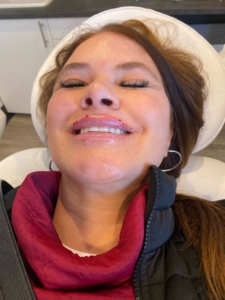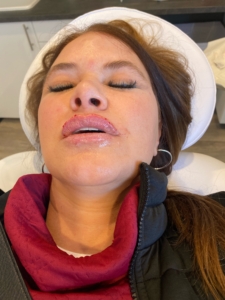 Will I swell after lip injections?
Swelling and bruising is normal, and your injector should disclose this part of the treatment with you at the consultation and assessment step, that way you are aware and can plan for social down-time. For initial downtime, the first 24 hours is the worst, then swelling subsides day by day and can be covered by makeup.
It is also recommended to not plan this appointment on (or too close to) any important social gatherings, pictures, or work presentations. 
Generally we tell people not to "love them or hate them for 2-weeks" but give them 30 days to fully settle. Ultimately, the treatment should be done at least 4-6 weeks before any big event. 
Click on the pink "read this" button to learn how you can reduce swelling and bruising post lip injections. 
Photos of Before & Immediately After injections
Immediately after injections
From these photos, you can see there is initial swelling right after the injections. Keep in mind, this is normal and to be expected. Do not be surprised either, if swelling gradually increases throughout the day into the night. 
What do providers put on lips after injections?
Once the provider is finished with injecting, they will finish the procedure with these steps:
1. Massaging the filler to ensure it is even and smooth
2. Applying post-injection cream to prevent biofilm
3. Apply medical grade anti-bacterial ointment on top to prevent infection
These 3 simple steps make a big difference in treatment outcomes! As mentioned earlier, it is crucial to get dermal filler from a licensed provider who is well-educated and takes all necessary precautions to keep you safe. 
What is lip injection aftercare like?
After the injections, your provider will recap what to expect following the appointment, and any precautions to take. This is to ensure you are confident in what to expect with the healing process after the appointment and avoid any risks. At Elite Medical & Aesthetics we often tell patients:
No tongues on their lips for 24 hours (theirs, their significant other, children or pets)
No touching for 24 hrs
No make-up on the injection area for 24 hours
Avoid straws for 72 hours, or forever 🙂 !!!
Avoid alcohol and any medications that can increase bruising
Only ice for short periods as needed and wash ice pack between use
Avoid any harsh or irritating products
Contact us with any questions or concerns!
Be sure to talk to your injector to know what they recommend post treatment if you're not an Elite Client. We also remind people that the first 24 hours of swelling can look crazy! It will get better quickly. 
Click on the pink "read here" button to learn about the lip filler roller coaster for emotional reassurance!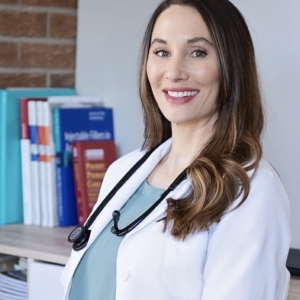 " I always make sure my patients have my contact information in case of questions or concerns, especially if going into a weekend"
Even though it can be intimidating getting lip filler (especially if it is your first time) be reassured that at Elite Medical & Aesthetics we will be with you every step of the way! 
Regardless of where you go, we cannot emphasize enough the importance of going to a licensed medical provider that you trust and knows how to keep you safe, while also giving great results.This is a medical procedure and needs to be treated as one.
If you are in the Lone Tree, CO area come see us for a free consult so we can decide together if lip filler is right for you. Ali Wagstaff is a double board certified Nurse Practitioner with a fellowship in aesthetic medicine. She is also an artist and takes a holistic approach to patient care. Click the pink "book now" button below to book.
Ready to book an appointment?
Follow us on social media to learn more about our team, treatments, and monthly specials!
https://www.emacolorado.com/wp-content/uploads/2022/02/IMG_3122-preview-1-scaled.jpg
2500
1875
Mary Beth Martin
https://www.emacolorado.com/wp-content/uploads/2018/08/elite-340x156w-300x138.jpg
Mary Beth Martin
2022-03-01 15:12:12
2022-11-14 23:00:00
Inside a Lip Filler Appointment