Introduction
Every day we get many questions from our favorite clients about facial treatments ranging from chemical peels to a varieties of facials.
This is the ultimate guide to the most common questions we get concerning facial treatments, accompanied with in-depth answers provided by our favorite Nurse Practitioner- Ali from Elite Medical and Aesthetics.
What is a chemical peel?
A chemical peel is a skin treatment that works to smooth and improve the texture of a patient's skin by removing the outermost layer of dead, dry skin. By removing the outer layer of skin, a new layer, that is smoother and thicker, is revealed. Chemical peels vary in the number of layers of skin they remove to get different desired effects.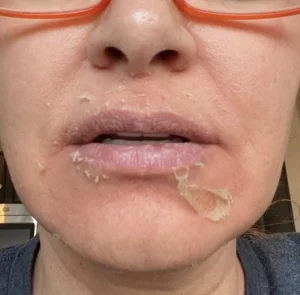 What happens during a chemical peel?
During a light chemical peel (one that is focused on removing the stratum corneum) you can expect a practitioner to first assess the area and discuss the procedure with you. After this, they will cleanse your skin and then use a cloth, cotton ball, or sponge to apply a light peeling agent such as: 10% TCA, or low doses of salicylic acid or glycolic acid to your face. At this point, your face may begin to redden in color and you may experience mild stinging. Once the treatment has taken effect, the practitioner will apply a neutralizing solution to end the treatment (if needed). Past this point, the practitioner may apply a protective ointment and sunscreen before sending you on your way.
Are chemical peels painful?
Chemical peels can be mild for a light peel to more intense pain for a deeper peel. At EMA, we do everything possible to keep you comfortable and our medium-deep treatments all come with an option for numbing.
How often should I get a peel?
A light chemical peel should be a standard part of a facial routine. Many experts recommend getting a peel every four-six weeks. They have almost no down-time post-procedure and you can incorporate them into a standard day.
Can I see results after just one peel?
After one peel you will begin to see some results like glowing fresh skin. With consistent peels, you will see better results and you may get rid of skin imperfections like larger sunspots, acne, acne scars, and general discoloration.
What should I avoid after a peel?
Do not use hot water on your face– it may irritate the sensitive skin
Avoid direct exposure to the sun and always wear a hat and SPF 30+ when out in the sun
Try to avoid strenuous exercise the day of your peel (maybe longer for a deeper peel) as sweating may be irritating
Don't exfoliate your skin after a peel, you may want to wait 3-4 days to begin using an exfoliating product
Can I wear makeup after a peel?
In general, you should be able to wear makeup a few hours after your peel. It is often recommended that you wait until the skin has flaked off. Makeup does have the potential to flare up redness in the skin so be cautious when applying and always use a clean brush or pad.
Is a chemical peel good for your skin?
Yes! Chemical peels work to remove layers of skin, which allows for the emergence of healthier smoother skin. They can help treat scars, fine lines, acne, and sun spots. A chemical peel is the ultimate skin refresher.
How long does it take to recover from a chemical peel?
In total it may take a full 4-7 days to recover from a peel. A light peel that only treats the epidermis may lead to a slight redness in the first 24 hours. Over the next 3-4 days, the outer layer of skin will become dry and flaky. As this happens the skin will naturally fall off- no need to peel it off. Your new fresh and healthy skin will begin to show after this. If you have had a deeper peel, expect the results to take a bit longer to show. Medium peels, such as VI Peel, may take 7-14 days to heel, with some redness remaining for even longer. 
Photo credit: VI Peel
What is a facial?
A facial is a procedure that combines many steps to cleanse, exfoliate and hydrate the skin. When an aesthetician performs a facial it can leave a more vibrant, glowing face. Visit our facial menu HERE.
What happens during a facial?
A facial involves many steps, so we broke them down below.
Your hair will be wrapped to keep it away from your face during the procedure

The aesthetician will assess your skin, paying close attention to oiliness, pore size, and any acne or blackheads

The aesthetician will steam your face with a machine or using a warm damp towel 

You'll get either a chemical exfoliation of your skin using an enzyme or a mechanical exfoliation using a gritty substance that sloughs off dead skin

After you've been exfoliated the aesthetician may extract blackheads or whiteheads with special tools

After this point, you may get a brief 10-15 minute facial massage to relax the muscles and increase blood flow to your skin

The final (optional) step is a facial mask or LED light therapy specially chosen for your skin type. If it is daytime you may also get sunscreen at this point.
How often should I get a facial?
We recommend getting a facial at least once a month but, depending on your skin type and goals, you may be able to get them more or less frequently. Schedule a consult with an aesthetician at Elite to determine what is the best plan for you. 
Do facials unclog pores?
Mechanically exfoliating, or using certain chemicals and enzymes, will unclog your pores. With their specialized tools and use of steam to soften the skin, your esthetician can unclog stubborn blackheads and whiteheads appropriately to ensure skin isn't damaged.
When will I see the results of my facial?
You will see your skin become refreshed and glowy immediately after your facial. This is due to an increase in blood flow, removal of dead skin, and cleansing of your pores from the facial. This result will look its best for 48-72 hours following your procedure, so it is great before a special event!
Should I use makeup after my facial?
You can certainly apply make-up after your facial but you may not want to! Let yourself enjoy your fresh, glowing skin makeup-free.
Do facials remove blackheads?
Yes! The aesthetician will work to remove your blackheads after steaming and exfoliating your skin if needed. Always get professional extractions done instead of picking at your skin. This helps to avoid scarring or possible infection.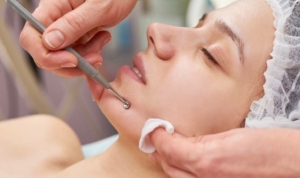 Photo credit: Professional Beauty
O2 Lift Enzymatic Facial (Oxygen Lift)
What is an O2 Lift Enzymatic Facial?
The O2 Enzymatic Lift facial is a special exfoliating gel that is applied to the client's skin. As the clinician massages the gel across the client's face, the gel liquefies and removes dead skin to refresh the skin.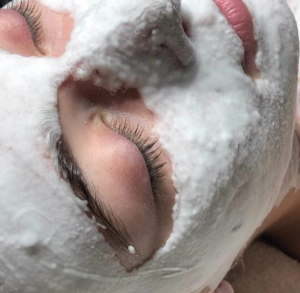 Photo credit: Radiant Skin Treatments
How much does an O2 Lift Enzymatic Facial cost?
O2 Lift Enzymatic Facials are performed by a registered aesthetician and generally cost $100 or more, for more on aesthetic facial pricing click HERE.
How long does an O2 Lift Enzymatic Facial take?
Generally an O2 Lift Enzymatic facial takes between 30 minutes and an hour! It's a quick lunchtime procedure with no downtime, just healthy, hydrated skin.
What are the benefits of an O2 Lift Enzymatic Facial?
With an O2 Lift Enzymatic facial your skin is cleansed, exfoliated, and hydrated with stem cells and oxygen-infused products. This facial will actually increase blood flow and oxygen in the skin. Also, by removing the outer layers of skin, it speeds up cell turnover in all of the skin layers. 
What is Oxygen Facial aftercare?
There is absolutely no downtime after an oxygen facial- that means no worrying about aftercare. Though you may not need it, you can even apply makeup immediately after the procedure.
Mini Custom Facial Peel (Basic Facial)
What is a mini custom facial peel (basic facial)?
This is an Elite custom service that will help you get your glow on! This is the ideal service to book as a first-timer or 1-2 weeks post procedures like IPL, microneedling, or any other procedure where your skin is fully healed but in need of a good exfoliation. 
The service includes cleansing with a manual scrub, application of an enzyme  or light peel followed by hydration and SPF. Depending on your skin-care needs and preferences may also include masks, LED light, extractions, or massage.
How much does a mini custom facial peel (basic facial) cost?
A mini custom facial peel can cost between $35 and $75 depending on the services included. These facials are sometimes called "basic facials" as well.
How long does a mini custom facial peel (basic facial) take?
A mini custom facial,  "basic facial", or "express facial" should take between 30 and 60 minutes depending on the services included.
What are the benefits of a mini custom facial peel?
A relaxing facial can easily remove dead skin and increase blood flow to your face. This leads to glowing healthy-looking skin.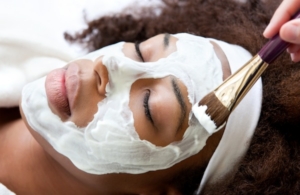 Photo credit: Pivot Point
What is mini custom facial peel aftercare?
Avoid wearing makeup for the remainder of the day after your facial if you can

Drink plenty of water

Use a high SPF sunscreen 
Be gentle with your skin
What is a classic facial and peel?
This is a full custom service at Elite! The clinician will evaluate your skin-care needs and select a custom treatment that can address a variety of skin conditions such as anti-aging, acne, dry skin, oily skin, or improvement in overall complexion. The service includes a double cleansing, a peel, a mask and hydration followed by SPF.
How much does a classic facial and peel cost?
A classic facial and peel can vary in price depending on the services the package contains. At EMA, these services start at $75-$150.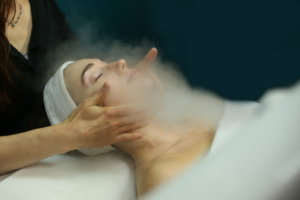 Photo Credit: Open Sky Day Spa
How long does a custom facial and peel take?
A classic or "full facial" is usually around 60 minutes. A very long but relaxing experience that is not only beneficial to your skin but also your mind and stressors.
What are the benefits of a custom facial peel (full facial)?
An in-depth facial can help you clean out your pores, hydrate your skin, and clear away some of the dead skin cells that may be lingering. This leaves your face feeling softer and clearer. The massage portion of the facial will stimulate blood flow and relax muscles in your face.
What is custom facial and peel (full facial) aftercare?
Avoid wearing makeup for the remainder of the day after your facial

Drink plenty of water

Use a high SPF sunscreen 

Be gentle with your skin
What is an Oxygeneo 3-in1 facial?
An OxyGeneo facial involves exfoliation, infusion of nutrient-rich ingredients, oxygenation, and massage of the skin. It's being called "better than micro-dermabrasion" by skincare experts.
It increases overall blood flow and nutrients to the skin by stimulating carbon dioxide that causes a cascade of mechanisms to release oxygen from within the skin cells. Then it uses ultrasound waves to infuse the products deeper in the skin for ultimate hydration and results.
Photo credit: Geneo US
How much does an Oxygeneo 3-in1 facial cost?
The Oxygeneo facial price can vary but in general, they cost between $175-$275. At EMA, the procedure is $225 and performed by our expert medical professionals.
How long does an Oxygeneo 3-in-1 facial take?
The Oxygeneo 3-in-1 facial can take anywhere from 45 minutes to an hour.
What are the benefits of an Oxygeneo 3-in-1 facial?
An Oxygeneo 3-in-1 facial is much better than microdermabrasion because it exfoliates and infuses nutrients into the skin. It increases blood flow and nutrient stimulation in the skin by causing oxygen to be released from within skin cells. With this oxygen release:
The skin is hydrated and it stimulates collagen production which reduces wrinkles and lines
Pores are unclogged and opened up and the oxygen kills the bacteria that causes acne
Hyperpigmentation is lessened and complexion is improved when done regularly
What is Oxygeneo 3-in-1 facial aftercare?
Oxygeneo doesn't require any special aftercare– you can return to your regular skincare routine. We recommend using a good sunscreen after your treatment.
What is an IPL Photo-facial?
The IPL Skin Rejuvenation procedure, often called a photo-facial, uses light energy to target certain cells with color (often brown pigment or redness). 
The light energy converts to heat energy which causes the destruction of targeted cells such as age spots, freckles, rosacea, spider veins on the face, acne, and more.  This leads to a more clear and even complexion. Read more about IPL from our blog "Everything you need to know about IPl photofacials".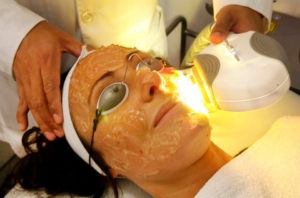 Photo Credit: Clinic 5 Collective
How much does an IPL Photofacial cost?
Generally, the cost is variable based upon the area you're trying to treat. Larger areas are generally more expensive. On average treatment can cost anywhere from $700-$1200 according to Healthline. However, a simple facial procedure is usually $300-400/treatment. Visit our pricing for IPL here.
How long does an IPL Photo-facial take?
An IPL treatment for pigmentation, IPL for sunspots, and IPL for redness should take 20-30 minutes depending on the area needed to be treated. It may take longer if numbing is required. 
Photo Credit: Alma Lasers
What are the benefits of an IPL Photo-facial?
The benefits of IPL include:
Reduction/Removal of sun damage (freckles, age spots)
Removal of broken capillaries (spider veins)
Reduction/Removal of redness and rosacea
Tightening of the skin for face and body (using infra-red technology)
Reduction/Removal of dark hairs, course and fine
Reduces the presence fine wrinkles
Overall brightening effect of the skin
Reduces pore size
Does an IPL Photo-facial help wrinkles?
IPL is known to stimulate collagen production which can reduce lines and wrinkles.
Are IPL Photo-facial results permanent?
It is expected that you will need 3-6 treatments of IPL to see full results. Once these are completed the results will be permanent in those areas treated. As our bodies age, however, we continue to develop more sunspots and age spots that will need to be treated as they develop.
What is Dermaplaning?
Dermaplaning removes the top layer of dead skin cells and peach fuzz using a sterile surgical blade. The treatment gives an instant glow-up and helps speed up the turnover of skin cells to give a more youthful and radiant look. It can be done alone or prior to facials, peels, and microneedling. It cannot be done if there is any active skin condition including an active acne break-out.
Photo credit: Healthline
How much does Dermaplaning cost?
Dermaplaning is a procedure that must be done by an experienced skincare specialist. It can cost anywhere from $75-$200 depending on the provider and the location.
How long does Dermaplaning take?
We generally tell clients that a dermaplaning procedure will take from 45 minutes to an hour.
What are the benefits of Dermaplaning?
Dermaplaning removes the outer layer of dead skin giving you smoother, softer skin. It also removes facial hair and speeds up cell turnover leading to a healthier, brighter complexion.
Photo credit: Healthline
Is Dermaplaning the same as shaving?
Dermaplaning is similar to shaving but uses a smaller blade that is wielded by a professional to clear off layers of skin. It is able to target more dead skin rather than just hair, which is what a shaving razor targets.
Should I moisturize after Dermaplaning?
Yes! After you've removed the layer of skin and oily hair, getting a moisturizing mask is a perfect way to cap off your treatment. The mask will penetrate better into the skin and hydrate your face to soothe and calm the skin.
Microneedling (with or without PRP/PRF)
What is microneedling?
Microneedling uses a special tool to stimulate collagen to treat acne scars, keloid scars, fine lines/wrinkles, stretch marks, cellulite, thinning hair, skin discoloration, and overall complexion. An average of 3-6 treatments is needed for full results. It can be done with or without PRP/PRF.
How much does microneedling cost?
Microneedling can vary greatly in cost based on the level of experience of the provider and the equipment used. Some clinicians are using devices that can be purchased anywhere (like on Amazon) and others are using FDA approved medical grade devices. This is why there can be such a disparity in price. 
You always want to go to a medical professional using a medical device to decrease the risks of: infection (including bloodborne illnesses like HIV and hepatitis C), shearing or damage of the skin, and poor results. 
A high quality medical grade microneedling treatment will usually cost anywhere between $200-$500. Though more expensive, it ensures your safety and also that you get real results.
How long does Microneedling take?
Microneedling can take anywhere between 30 minutes and an hour per treatment depending on size of treatment area.
What is the difference between microneedling and dermarolling?
Microneedling and dermarolling are based on similar processes but utilize different tools and expertise. Microneedling is the act of actually puncturing the skin at a 45-degree angle to stimulate your body's natural response to heal itself. This is thought to produce collagen and elastin. Dermarolling is an at-home lower cost option that may not have the same effects and cannot be used in all the same places. 
Dermarolling can also shear and damage the skin, increase risk of infection and lead to poor results. It would take hundreds of passes with a dermaroller to achieve the results you can get in a medical office using an approved medical grade device. (see photo below)
Photo credit: MD Needle Pen
How long does Microneedling take?
A microneedling appointment will take about an hour to account for paperwork and numbing. The actual procedure will only take 20-30 minutes. 
What are the benefits of Microneedling?
Microneedling stimulates collagen and elastin production which remodel the skin to give it a younger, healthier appearance. It may help reduce the appearance of scars, acne, and fine lines. A few studies have even shown that microneedling can help stimulate hair growth in dormant follicles.
Photo Credit: Beauty By Buford
How long does it take to heal from Microneedling?
The redness that comes from microneedling should subside in 1-2 days, but the effects will remain months afterward. In fact, some studies show that the skin continues to remodel and produce more collagen for up to 6-months after a microneedling series. Learn more about general microneedling by reading this blog HERE.
Does your face peel after microneedling?
For 3-5 days after your appointment, you may experience some light flaking as the skin cells that were treated renew themselves.
Each of the procedures have immense benefits for our skin. If you're considering one of them, check out the link to book with us at EMA. Our team is highly skilled and will help you achieve the results you're looking for.
Book a free consult to see what treatment option is best for you!